We were working on a Victorian tiled floor at a property in Doncaster and were approached by a neighbour asking if we would look at their Terrazzo hallway to see if anything could be done with it. This often happens, people see our van and come and see what it is we do. Once we have had a chat it often leads to more work.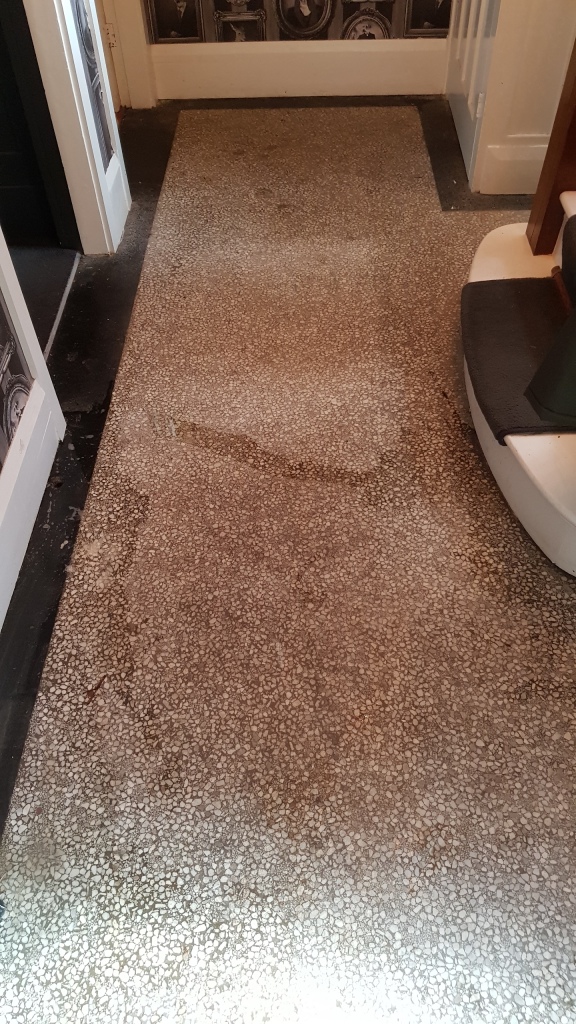 The neighbour had tried everything to make their unusual floor look more presentable even resorting to wire wool and a vast selection of cleaning products. I could see immediately that any sealer that was once present had long since worn off allowing dirt to become trapped in the pores of the Terrazzo. It would need a deep clean and polish to get it looking good again and so I reassured them and arranged to return in a few weeks to do the work. We see a variety of floor types in this job and each one presents a different challenge.
Deep Cleaning a Terrazzo Tiled Hallway Floor
We started by taping up the surrounding areas, skirting boards and doors to ensure they were protected. A strong dilution of Tile Doctor Pro-Clean was sprayed onto the Terrazzo and allowed to soak in for ten minutes so it could breakdown and soften the decades of dirt that had been ground into the floor. This is a multi-purpose high-alkaline cleaner, stripper and degreaser. It can be diluted to suit the requirement and it is a very effective cleaner that removes grease, mildew and algae from areas that have been neglected or subjected to heavy use.
With the Pro-Clean still in place the Terrazzo was then honed and polished using a set of Tile Doctor 17in diamond encrusted burnishing pads starting with a coarse 400-grit. This coarse pad removed dirt and old sealers from the stone, its applied with water to lubricate the process and it wasn't long before this turned into a dark slurry. The floor was then rinsed with more water and the slurry extracted with a wet vacuum. This process was repeated with the 800, 1500 and finally the 3000-grit pad which really brings up the appearance of the stone. The floor was then left to dry off overnight.
Sealing a Terrazzo Tiled Hallway Floor
Returning the following day, I first checked the floor was dry using the moisture meter. Satisfied that all was in order I moved on to sealing, this would ensure the floor was protected and would help to prevent the built up they had experienced.
We sealed the lighter areas with an impregnating sealer called Tile Doctor Ultra Seal, this is a no-sheen, natural-look, solvent-based penetrating sealer which is formulated to provide maximum stain protection. To restore the colour and add protection to the black border Tile Doctor Stone Oil was applied.
The floors appearance was massively improved, and the client was delighted and very pleased that they had bumped into me. For aftercare I recommended the use of Tile Doctor Stone Soap which is designed for the regulate cleaning of sealed and polished floors.
Source: Terrazzo Tile Cleaning and Restoration Service in Doncaster, South-Yorkshire