This was an unusual request to bring back to life a Terrazzo porch entrance that was installed by the customers father many years earlier at a house in Newport. The installation resembled very colourful crazy paving which was very popular in the 70's but if you look closely you can see it has more in common with Terrazzo due to the inlaid stone which has been ground down within the concrete base.
Years of exposure to the elements had left much of the stone and concrete discoloured and almost black in places. I discussed with the client how we would be able to clean the area and we agreed a price for the work which would take a day to complete assuming the weather held. Being an external job, I would need a warm day before coming back, this would ensure it dried easily.
Cleaning a Terrazzo Tiled Porch Floor
Thankfully for once the forecast was correct and the weather was good on the day, we had booked in to complete the job. To restore the appearance first I used a set of diamond burnishing pads with water to grind off the dirt and refine the appearance of the stone and aggregate. I used a variety of pads with different grades of grit to ensure the floor was as clean as possible rinsing the slurry off the floor after each pad. The transformation was dramatic. The patio was then rinsed with water to remove the slurry that was generated, and I used a wet vacuum to extract it.
This process took much of the morning, it made a pleasant change to work outside in the fresh air, most of our jobs tend to be indoors. After a final rinse I left the porch to dry out in the sun over lunch and came back in the afternoon to seal.
Sealing a Terrazzo Tiled Porch Floor
First, I checked the floor had dried out with a moisture meter, it was within the acceptable levels, so had the green light to processed and seal the floor. Since cleaning it really was starting to look like a nice feature.
To seal the patio, I used a couple of coats of Tile Doctor Colour Grow which works well externally as it copes with damp conditions. It's a colour intensifying impregnating sealer that provides durable protection to the surface as well as allowing the floor to breath. You can see from the photograph below how just how well Colour Grow improved the colours in the stone. Once I had finished it looked like a new installation.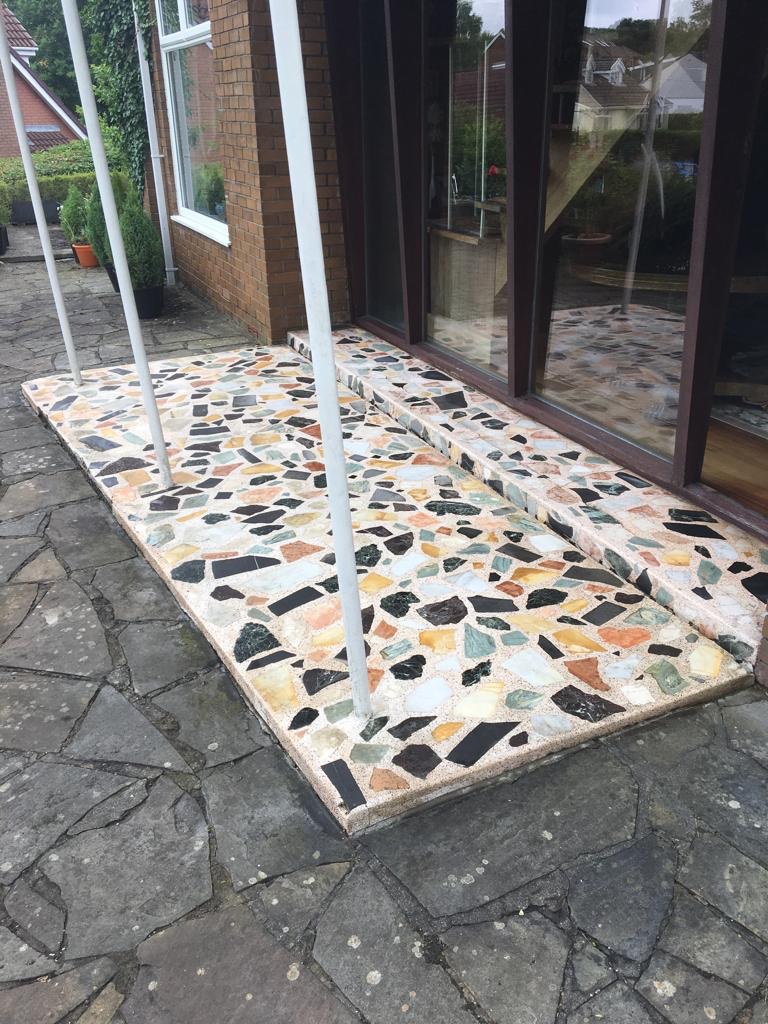 The client was over the moon I had managed to get the area looking this good. He said he could remember when it was laid, and his dad would be very proud of it now. It had definitely stood the test of time.
Source: Terrazzo Tile Cleaning and Restoration Service in Newport, Monmouthshire